Best Dentist for Implant Dentistry in Nagpur - Nagpur
Tuesday, 26 September 2017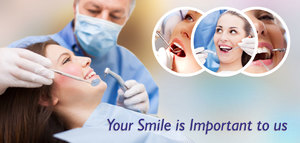 Item details
City:
Nagpur, Maharashtra
Contacts

DR. ARVIND ASHTANKAR

9823154023
Item description
The missing teeth can cause a drastic reduction in chewing efficiency. Dental implant fills the space of the lost teeth they preserve the supporting bone and stabilize your remaining teeth.
A substance that is placed into the jaw to support a crown or fixed or removable denture.
The reason that dental implants have become the most appropriate way of replacing a missing tooth.
It can be the better position to make a decision regarding to the future of your dental health.
Dental implants retain your natural face shape and smile that gives you overall quality of life.
Your smile is the best complements appearance by customizing your dental treatment.
Dental implants are the only dental restoration option that preserves your natural bone actually helps you to bone growth and prevent bone loss.
You can taste and enjoy the food you love without any hesitation when you have a dental implant and you can feel comfortable with this
You can bite naturally you can eat virtually anything you want with your dental implants.
Dental implant in your jaw bone is very safe n easy without damaging your healthy teeth.
Smilestone dental care gives you peace of mind by offering smile which give you a long lasting, beautiful smile with confidence. It gives the long term successful outcomes than any other treatments. Smile dentistry or smile makeover cares are the next best thing to your healthy and natural teeth. The best experienced dentistry team we have they can properly place and care for your dental implant that can makes your best long term and cost effective solutions.
When your teeth is lost, space is created and bone loss occur it can cause for the remaining teeth to help them and prevent them. Missing teeth can cause a drastic reduction on chewing efficiency.
Your teeth were designed to last a lifetime, but replacing missing teeth is important to your general health and to the health of your other teeth. Smilestone dentistry provides you the answer to the questions you have about dental implant. There are so many shapes size and brands of implants are available we help you and guide you which implant is the right one for you. Smile dentistry advice you for additional bone material is needed or not because it is important for a patient to know about the enough bone to support there are so many safe and effective ways to correct bone deficiency.
Smilestone is the Best Dental Clinic in Nagpur which gives you the facial strength and articulated smile on your face.
Smilestone dentistry is the best for applying braces and gives good advices for further more process and procedure. DR.ARVIND ASHTANKAR is the Best Dentist in Nagpur city who will help you and monitor you on the proper home care procedures to keep your dental implants and keep you remaining teeth healthy and clean as possible.